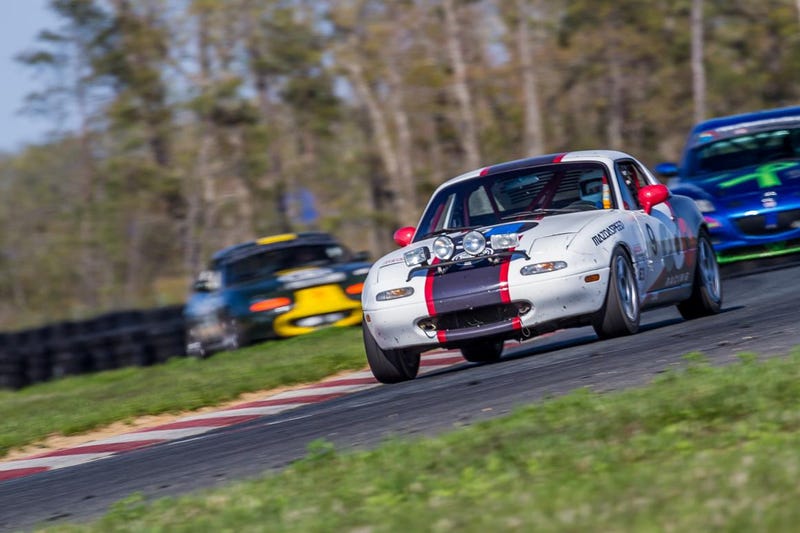 With the end of the race season fast approaching seat time has become a scarce commodity. Meanwhile Triple-C Racing has been fondly reminiscing about the Summit Point, West Virgina Labor Day race weekend. Three full days of racing action, and enough seat time to melt my fast shoe to the foot-well by the end of day three.
Racing has three components; repairing race cars, breaking tools while repairing race cars, and vein bursting adrenaline rushes akin to skydiving from outer space, while on track.
The adventure started before we even got to Summit Point. During our previous weekend we heard one million felines screaming from the #96 cars' bowls and diagnosed a bad differential, and our #97 car had been sidelined with a connecting rod emergency escape hatch, through the side of the engine block.
To expedite repairs and avoid the typical 2am weeknight wrench session before race weekend, we enlisted venerable Windsor Customs. Windsor previously helped us get back on track after a severe mid-weekend collision, something that would have taken a normal autobody shop weeks to repair. The Windsor team exceeded expectations once again by completing an engine swap/parts-upgrade/dyno-tune PLUS suspension upgrade/alignment in the #97 and a separate differential swap, suspension, tune AND install a full data acquisition system (which may come back to bite him when Triple-C steals his podium spot) ALL complete in 3 days. Truly impressive.
We escaped the city Friday afternoon riding fancy with our spankin' new 3500 GMC dually "Charlotte". In West Virgina she's centerfold worthy; curvaceous hips guarding the dually wheels out back capable of hauling more Miatas than we know what to do with. 6am wakeup call Saturday greeted us with clear skies and fast track conditions, which all of the 250+ competitors gladly welcomed.
As race newbies we've found the #1 thing needed to go faster is seat time, no matter the class or how competitive/uncompetetive we may be; if we're technically eligible to run the class, you'll see us on grid. The smiling grid worker lady came up to me while I was strapping into the car mid-Sunday and said "I thought you had a twin and 3 cars, but it's just YOU!" I focused my inner Steve Mcqueen and replied "yes ma'am" with a wink.
Lots of seat time means the cars take a beating. I was just about to breathe easy after I sent Arun off for the final session on Saturday. I pulled up the Race Monitor App to check in on his times; after the 1st lap there was no recorded time and I started sweating. Just as I was about to jump on the pit bike and head to the tower he rolled into the paddock: Under his own power - good, all wheels and body panels - good, he yells out "No third gear!!" - DAMN.
Without asking for an explanation we turned to comrade Windsor who confirmed the transmission had grenaded. We loaded the car onto his trailer along with his spare transmission, just as JJ who was in the same 20 minute race pulled back in. The look on his face when he saw the car on a trailer pulling away, priceless... well after the fact I guess we could put a price on that. 5pm Saturday blown transmission, 8am Sunday gridding up to start with a shiny new transmission, try doing that in your car.
Sunday was the day of the flat spot. As confidence built, braking points became later and more aggressive until 3 races in a row our cars returned with oblong shaped tires. Cue dying impact wrenches now...
We straightened our act out, started reviewing race footage between sessions; finding areas to improve on and began setting personal bests lap after lap. Video is an invaluable tool, allowing you to critique yourself, ask others for advice since they can't sit in the car with you, and most importantly to capture all the bat shit crazy moments like this VW trying to drive upside down:
Our new data acquisition system did a great job recording our mistakes. It allowed us to watch each acquisition point overlayed on video with rpm's, throttle, brake, g-forces and precision GPS tracking, SCIENCE!
Monday brought on new personal bests for the whole team in the #97 car with the fresh engine and onboard data. While I've had faster lap times through the year given equal machinery, JJ and Arun are closing the gap with each weekend to keep the challenge going. We'd like to think we have special powers, but it's all about the seat time, and the technology. This is an exciting revelation because it means we can all get there, given continued team work and a healthy intra-team competition. We hope to finish this battle with multiple Triple C cars on the podium, otherwise it might get lonely up top...
Your neighborhood driver,
Adam
www.classiccarclubmanhattan.com
Adam Miller (Adam@classiccarclub.com) is CCC's Membership Director and runs the clubs' Triple C Racing Spec Miata team in his spare time (he no longer has any spare time)